I didn't mean to take the weekend off! I apologize. 4th of July tends to be an emotional trigger for me, that and I was CRAZY busy with family events all weekend.
But I'm here! I powered through!! And back for my first
Microblog Monday
! (Brought to you by Stirrup Queens.)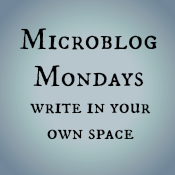 And now, I finally get to relax...finish my popcorn and wine and continue watching Scandal! Because if there's any way to take your mind off your own issues, it's listening to others issues.
Do you ever do that? Just sit and listen to a friend complain about her mother in law, her pets, or crazy neighbor's? Maybe even her husband. And in that moment, even though your heart breaks for you friend because her boy friend, who seemed amazing, has suddenly dumped her...you find peace in knowing that you're not alone in your struggle.
Pain is pain. We all have it. We all relate to it. All we can do is support each other, so here I am watching scandal talking to my best friend via text and sending her all the pins she needs to help forget old what's his name...all while watching one of the best shows on television ::winky face::
XO,
C