Okay, this post is a tiny bit over a micro post, linked up though! (Almost double I think...almost 16 whole sentences...only 8 over, lol)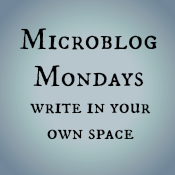 I was able to give myself a lot of positive talk today. Reminding myself that even though we're in a holding pattern, that our journey isn't over yet. That there is hope. That, for right now, in this moment, there is still time. Whether it takes another 4 and a half more years, (which is probably when we'll actually have the money to try and try and try again) there will still be hope. Hearing other people's stories of waiting, knowing we're not alone.
Reading that passage about how Elizabeth and Zacharias were holy and righteous before God, Luke 1:6. As well as "well advanced in age" Reminded me that with God, all things are possible. That there is still hope for this day and the next.
That's half the battle though most days, isn't it? Reminding ourselves that this journey ABSOLUTELY, positively is wretched. However, we can be joyous in the wait.
(photo credit in the pictures)
Total for savings this week over $270! Just a little bit each day is building on my small little number. Can't wait to get the Gonal-F rebate back...
Ugh, which reminds me...my next few posts are probably going to be about setting up for a garage sale...bleh...okay...
not overwhelmed...
It's bedtime and I'm SO CLOSE To finishing a book I'm reading! Happy thoughts, happy thoughts!
XO,
C