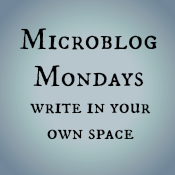 My post might be a bit on the long side for a
MicroMonday
but I do enjoy linking up and reading everyone's posts.
We're in a unique position these days. We have a chance to really hunker down and pay down a ton of our debt over the next 5 months or attempt to scramble to get together money for the IUI fund.
If we're being realistic though, there's no way we'd be able to pay for baby, plus debt, plus missing work. While I had dreams of doing a cycle in October (unless by some miracle) our new set date is January. Right after the Holidays.
This year will be rough. The next 4 months will probably drag by...I'll probably hate it, but in reality? I'm really hoping time is on our side. I'll be 29 this fall and am hoping by next year I'll be in a better position money wise to pay for our next cycle without debt and without extra worry.
After the hit of taking money out for a broken dryer plus saving a few dollars...literally
dollars
, our total savings is up to $473 and some odd change.
While talking to C tonight, if we take $400 of it and fix one of the cars we have, we can then turn that around and sell it for hopefully $3,000!
$500 would go back into the IUI fund while the rest would go towards one of the remaining 5 accounts of debt we have hanging over our heads. Not to mention whatever money I'll save between now and January plus garage sale money.
I guess this might be what is called being good stewards of our money.
Hoping time and miracles are our on side. I'm going to need the reminders over the next few months.
XO,
C