3. 3 pregnancy announcements on Facebook this week.
Yep. 3.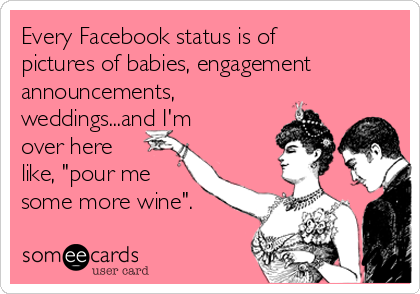 These ecards are helping lol!
I can't find the one I really want though...the one where it says "Just going to check facebook really quick. ANNNNNDDDDDD 49 pregnancy announcements. Alright, I'm done."
Saw this today though as well and it helped, plus having some time away from the computer this next week will really help.
Funny how the smallest things can really speak truth into your heart.
Before I forget, my book club picked Girl on the Train, while I was on the
Resolve network
a few days ago, someone had posted about books that don't have any MENTS in them. Moments that might be a trigger. Turns out Girl on a Train, FULL OF THE THEM!
I've decided to forgoe purchasing the book this go round, I'll check it out from the library, and if I get to a point where I can't handle it I'll return it. That way I won't feel obligated to keep reading it because I purchaed it. I'll also be going to the book club meeting, might try to be an adovate! Somehow...or least give an honest opinion on what MENTS this book might bring up.
I pulled a list of questions off of
Pengiun
and #6 will be an interesting question.
One of Rachel's deepest disappointments, it turns out, is that she can't have children. Her ex-husband Tom's second wife Anna is the mother to a young child, Evie. How does Rachel's inability to conceive precipitate her breakdown? How does the topic of motherhood drive the plot of the story? What do you think Paula Hawkins was trying to say about the ways motherhood can define women's lives or what we expect from women's domestic lives, whether as wives, mothers, or unmarried women in general?
Yep, book club will be interesting. When I start to read it I will definitley give you the play by play of my thoughts!
XO,
C