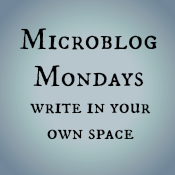 (Head over to
Stirrup Queens
to learn more about Microblog Monday... as well as check out her post for This Monday the 28th here at
Ethical Dinner
...I'm pretty sure I broke the 8 sentence rule...again.)
Have you seen this
petition
floating around online? Oddly found it linked to a pin, almost didn't think it was true. However, after further investigation I signed it! I wanted to share this petition with you, as I personally have chronicled a little bit of your financial journey to do another IUI. Saving towards $3,500 is not only difficult financially but emotionally as well. Do we buy
this
even though we have a goal? Do we buy
that
because we need it even though it's expensive? How long will these financial decision put off our dream of building a family using assisted reproductive measures?
Currently banked in our 'Piggy Bank' is just under $200, while it was larger, we decided to try and gain financial peace by taking out $500 to help fix one of our vehicles then sell it. Hoping that goes a long way towards paying for our second IUI.
However, I can tell you for sure that I have friends who owe their clinics of upwards of $15,000 and that's
without an assisted procedure from their clinic
. Their $15,000 debt only included medicine, shots, ultrasounds, and timed intercourse! A petition like this would be amazing for people such as myself. It would go a long ways towards helping us not just financially, again, but emotionally!
Please consider signing.
Mandate All Insurance to Cover Infertility as Basic Healthcare. Acknowledge Infertility as a disease, not a choice.
XO,
C